Trade Name: Camelyn M4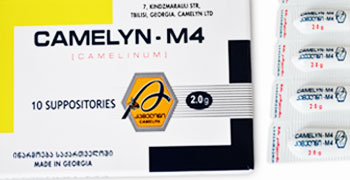 INSTRUCTION
FOR USE
CAMELIN - M4

Trade Name: Camelyn M4
Dosage form: Rectal - vaginal suppositories.
Composition: "Camelyn M" lyophilisate - 0.07 g. Basis of Vitepsol S-58-1.6 g.
polyethyleneglycol-100 stearate - 0.33 g.
"Camelyn -M4" is made from a special kind of bee honey.
It contains of biologically highly active substances of bee origin: aldehydes, organic acids, phenols, ketones.

Description: Light brown, rectal - vaginal suppositories, 2.0 g.
Pharmacotherapeutic group: Antioxidant, immunomodulator, antimicrobial.
Pharmacological properties: "Camelyn - M4" has an anti-inflammatory, analgesic effect, stimulates immunomodulatory and reparative processes.
Pharmacological action: Has an anti-inflammatory, analgesic effect, accelerates the regeneration process, potentiates the functioning of the local immune barrier.
Indications: Vaginal infections, including bacterial, viral, fungal, inflammatory diseases of the cervix, erosion. Proctitis, rectal fractures, hemorrhoids. Urological diseases (chronic bacterial prostatitis, chronic urethritis).
Method of Administration: Adults- one suppository 1-2 times a day, rectally or vaginally.
Side effects: In therapeutic doses, the therapeutic agent is non-toxic, side effects are not observed. Possible manifestation of individual hypersensitivity to its components.
Contraindications: Hypersensitivity to the component of the medicine.
Warning: At the presence of the large size of haemorrhoidal nodes, pains may occur within a few minutes after the introduction of the suppository.
Form of production: 10 suppositories in one package, Camelin-M4, 2.0 g.
Storage conditions: Store in a dry, cool, (8-150C) place, out of the reach of children.
Shelf life: 2 years.
Conditions of release from the pharmacy: Out of prescription.