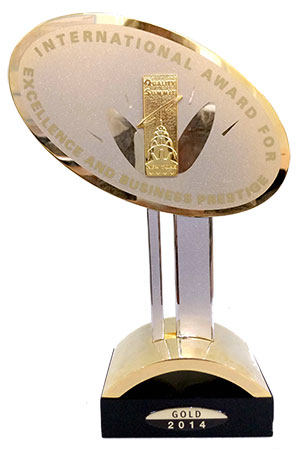 New York hosted this year's BID International Quality Summit Convention, where professionals and business leaders from around the world gathered to recognize excellence and success. In particular, the convention celebrated quality in business and operations. Award winners demonstrated commitment to the criteria of the QC100 TQM Model, which helps bolster customer satisfaction and cost efficiency across all areas of operation.
Among this year's winners, Ketevan Maglakelidze of LTD Camelyn, from Georgia , received the International Quality Summit Award in the Gold Category at the BID Quality Convention in New York. The organization has made huge strides this year as a leader not only within its sector, but also in Georgia . The Award came as an ideal way to celebrate this past year's successes while looking forward to putting quality first in the year to come.
Considered the world's most important city economically and culturally, New York is the reference point for international businesses. With a population of over 8 million inhabitants within an area of 1,214 square kilometers, it is distinguished among other cosmopolitan cities as the location of the United Nations and for its stock market as the center of the global economy. It is also a cultural and entertainment center with a wealth of monuments of great historical value: the Statue of Liberty, Rockefeller Center, the Empire State Building, its museums, most notably the Museum of Modern Art (MOMA), the center of theatrical productions (Broadway) and the location of the world's most visited media enclave- Times Square, all of which have made it the perfect city to present the BID International Quality Awards.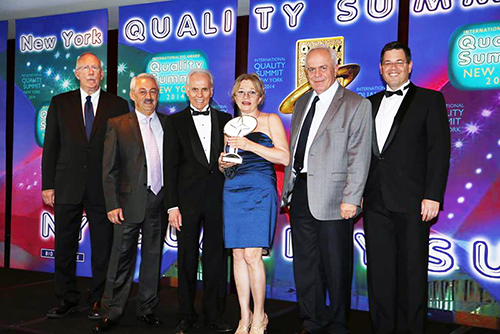 LTD Camelyn won the International Quality Summit Award in the Gold category in New York in the presence of leaders and representatives from 49 countries at the International Quality Summit Convention. The prestigious award is presented in recognition of business excellence and innovation. From left to right: Norman Ingle, President of the Quality Mix, Koba Grigori Gurielidze, Director of Camelyn , Jose E. Prieto, President and CEO of BID, Ketevan Maglakelidze, Founder of Camelyn, Craig Miller, President of the QC100 and Avtandil Makharoblidze, General Director of Camelyn.

Ketevan Maglakelidze stood before the gathering of international leaders, sharing the company's achievements to date as well as its future ambitions and goals. Despite the difficult current global economic climate, LTD Camelyn strives to excel in quality each day, creating a competitive advantage in its industry. For this reason, LTD Camelyn won the 2014 BID International Quality Summit Award in New York. The Award is presented by BID to those companies and organizations from around the world that best adhere to excellence and innovation in their practices, putting quality first at all levels of organization.
Leaders awarded by BID are united by their commitment to quality in their respective sectors. This year, winning organizations include:
Nexray Pte Ltd, from Singapore. NexRay is a leader in the design and manufacturing of highly specialized, custom-built safety-testing machinery. Utilizing cutting-edge, highly sophisticated sensing technology, and always going the extra mile for its clients, the company's machinery is a mainstay in the automotive factories of companies such as GM and Volkswagen.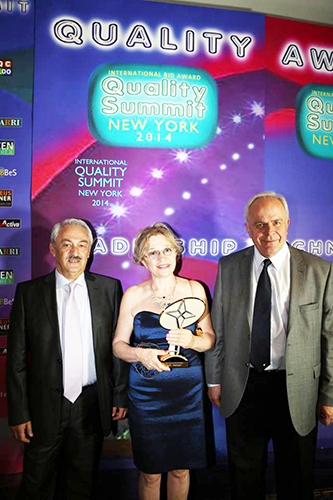 Kepler, from Mexico. Founded by Ricardo Arocha Morton in 1975, Kepler Construction has emerged as a national and regional leader in industrial construction. It builds power plants, outfits mines, and has recently expanded into the construction of large scale Urban products, such as work on the impressive German Centre for Industry and Trade. The company achieved a milestone in 2002, when it became the first Mexican company in its field to become ISO certified.
PhilSteel Holdings Corporation, from the Philippines. Originally tasked with finding a way to construct buildings with a national lack of timber, PhilSteel is comprised of five different companies working towards the country's economic advancement through the manufacturing of metal buildings. It is now the leader in the Philippines, and its products, due to their exacting quality, are increasingly finding their way into other Asian countries and the Americas.
Visvesvaraya Technological University - VTU, from India. This state-run university is the largest technical university in the world. It has a dynamic student body of over 410,000 soon-to-be engineers studying 76 fields of engineering. Its excellence and quality is a big reason why India is the country with the most engineers and doctors in the world, and VTU is a name known the world over for its prestigious and scope of operations.
Delcilson, from Angola. Dr. Basilio Epomba Cassoma is an exceptionally talented self-made businessman who is considered one of the leading experts in business "Know How" in Angola. He is the leader of a group of companies called Delcilson, which is one of the leading companies in the growing Angolan business landscape, a group that includes the Rosa Valls Hotel, Marsanto, Kangli Angola, and Beautylife International.
LKE Electric Malaysia Private Limited, from Malaysia. Foremost in designing and manufacturing of power protection and distribution equipment for high, medium, and low voltage electrical systems, LKE is known for its custom and turnkey solutions. With support teams in Denmark, Malaysia, China, Southeast Asia, Australia and Germany, UK, North and South America and the Middle East, past projects include the Sabah Shipyard and the Singapore Changi International Airport.
The companies honored in New York were recognized not only for their entrepreneurial achievements, but also for their dedication to continuous improvement and innovation, key concepts of the QC100 Total Quality Management Model. Seeking to increase customer satisfaction and optimize efficiency, the model promotes an organizational culture of engagement and a proactive approach to improving processes.
All of the winning companies in New York have expressed their commitment to theQC100 TQM Model, which serves as an excellent example for other organizations in today's rapidly changing business environment. By making customer satisfaction the highest measure of quality, BID award winners set the benchmark in their respective sectors and contribute to the social and economic development of their countries, paving the way for world-changing initiatives. A key example can be seen through LTD Camelyn, whose spirit of innovation and positive growth has overcome and indeed thrived in the challenging current global economic climate.
An ongoing commitment to Quality, one of the core requirements for receiving a BID Award, can be witnessed through the distinguished companies previously honored with a BID Quality Award. Companies which already share BID's corporate seal are present in more than 170 countries and include world-renowned names on the Fortune Global 500 list such as: Operadora VIPS, of Wal-Mart Stores (1) Indian Oil Corporation Limited (88); and Beijing COFCO Plaza Development (357).
Other previous BID winners worthy of mention include Turner Construction (USA); Haki (Sweden); Ansaldo Energy (Italy); Zepter (Austria); RAO-Unified Energy Systems (Russia); Als & Cachou-TBWA (France); Tata Group (India); Plamex-Plantronics (USA); Dogus Holding A.S. (Tukey); Franklin Electric (USA and Mexico); QMS International from the United Kingdom, FSUE VO "Safety" (Russia); and Viking Line (Finland).